TIBCO is a pioneer in application integration for over three decades. With its connected intelligence portfolio of products, it can connect to any application, device, or data source seamlessly. TIBCO offers two sets of integration options for customers
1. API Lead Integration
TIBCO offers the below tools to attain business agility, all Enterprise systems to be connected seamlessly to accelerate digital transformation.
TIBCO Cloud Integration, TIBCO Business Works, TIBCO Cloud Mashery, TIBCO Cloud Liveapps, TIBCO Managed File Transfer, TIBCO Business Connect
2. Event Driven Application Integration
TIBCO offers the below tools to achieve asynchronous event-driven capacities that are a native architectural model of IoT and digital businesses the days.
TIBCO Messaging, TIBCO Cloud Events, TIBCO ActiveSpaces, TIBCO Flogo Enterprise, TIBCO Business Events, TIBCO Cloud Messaging
Here are some use cases found in reference to TIBCO implementation for logistic customers.CargoSmart
CargoSmart Limited provides global shipment management software solutions that enables shippers, consignees, logistics service providers, NVOCCs, and ocean carriers to improve planning and on-time deliveries. Connected to over 40 ocean carriers, CargoSmart leverages big data sources and a cloud-based platform to offer award-winning sailing schedules, visibility, documentation, contract management, compliance, and benchmarking solutions.
One of the use cases for TIBCO is related to medical supply manufacturers who need to know that certain supplies are continually refrigerated. If conditions change, IoT temperature sensors can raise events that can be alerted on and visualized for customers in real-time.
TIBCO Flogo and TIBCO Streaming software helped in applying artificial intelligence to IoT data for augmented decision-making around disruption handling—as well as a profoundly enhanced customer experience.
An industry leader in transportation and logistics, Con-way wanted real-time visibility into operations to optimize operating ratio: cost over revenue. Continuous real-time data on drivers, trailers, routes, and the miles traveled enabled predictive insight and alerts.
Con-way laid the groundwork to capture all mission-critical events that were flowing across all applications using service-oriented architecture. Then all these events are correlated and aggregated using complex event processing to get an understanding of what's going on and how to react to them in real-time. It provided insights and automated real-time business decisions using data in motion.
An example is …. When there is a major weather event, they still need to know how to get critical shipments delivered, perhaps food that may even be needed because of the storm. Con-way needs to know immediately if a truck is in danger of not getting to its destination, which routes are still available, exactly what the perimeter of that weather event is. Business continuity and real-time information are critical.
Modern TIBCO architecture was used to digitize outdated manual processes, innovate, and deploy new services quickly. Exactly what this leading e-commerce delivery business needed.
PostNL worked with TIBCO to move from outdated, on-site legacy infrastructure to modern TIBCO infrastructure on the Amazon cloud (AWS). With this application modernization, the reliability of PostNL systems has gone up which improved customer experience significantly.
With a new, modern TIBCO cloud-native architecture, the logistics giant is now digitizing manual processes, creating new features and capabilities, and meeting the increasing e-commerce delivery demands of customers like Amazon.com.
https://www.tibco.com/customers/postnlStreaming Analytics and the Internet of Things 
Compared to traditional big data analysis is highly useful to understand what has happened, how, and why. It can identify predictive patterns based on the data at rest. But this alone should not be the goal of the IoT implementation in many cases. Unless you have the ability to see what's happening in your operations in real time and identify the critical business moments—opportunities and threats that need to be acted upon immediately—you would not be fully leveraging your IoT investment. In transportation and logistics, re-routing, re-scheduling, and re-staffing have to happen in real-time to achieve the best productivity and efficiency. Most Transportation and Logistics companies addressing the Internet of Things (IoT) focus on producing devices that capture data and push it to the cloud.
Some IoT devices include Barcode scanners and RFID readers, Driver and pilot cellphones and tablets, Global positioning systems, OBD-II readers, Palettes and lift trucks, Refrigeration units, Self-driving cars and Weather trackers.
TIBCO offers a comprehensive solution to capture and act on different sensor data associated with FUEL, VEHICLES, PACKAGES, DRIVERS, TRAFFIC, WEATHER, LOCATION, TEMPERATURE, etc.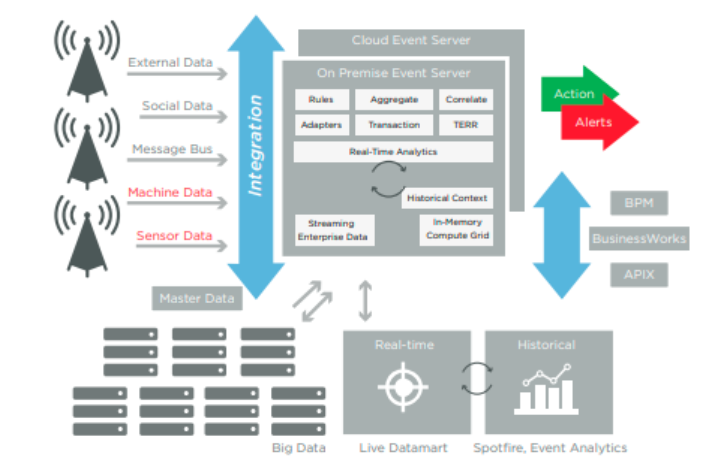 Other use cases of how TIBCO technologies can be used to extract maximum value from the Transportation and Logistics IoT are REAL-TIME DIAGNOSTICS, FUEL EFFICIENCY, PRE- AND IN-ROUTE SCHEDULE UPDATES, PREDICTIVE MAINTENANCE SCHEDULING and UTILIZATION OF UNUSED SPACE
https://www.tibco.com/resources/whitepaper/streaming-analytics-and-internet-things-transportation-and-logisticsACCELERATORS & SOLUTIONS
TIBCO has well documented on some of accelerators and solutions related to the Logistics Industry that can help to fasttrack deployment of pre-built usecases for customers.
Connected Vehicles Accelerator : https://community.tibco.com/modules/connected-vehicles-accelerator
Continuous Supply Chain Accelerator : https://community.tibco.com/wiki/continuous-supply-chain-accelerator
TIBCO LiveView™ Display of Real-Time Automotive Diagnostics :https://community.tibco.com/modules/tibco-liveviewtm-display-real-time-automotive-diagnostics
TIBCO LiveView™ Plane Tracker :https://community.tibco.com/modules/tibco-liveviewtm-plane-tracker
TIBCO BusinessConnect™ Powers Trade on Land, Sea, and Air :https://community.tibco.com/wiki/tibco-businessconnecttm-powers-trade-land-sea-and-air
TIBCO – Travel, Transportation and Logistics Solutions :https://community.tibco.com/wiki/tibco-travel-transportation-and-logistics-solutionsPROWESS SOFTWARE
Prowess Software has been a key partner to TIBCO in implementing Logistics solutions to various customers. Here are few usecases implemented successfully for our customers.
Vendor Onboarding
Track & Trace
B2B Transaction Processing
IoT Integration
Automated Equipment Job Management
Traffic Monitoring
Inventory Management
Order and Warehouse Management
API Management
EDI Processing